iHub Global Las Vegas Launch Event Recap Video
Watch the recap video from iHub's Official Launch Event in Las Vegas!
iHub New User Welcome Emails & Affiliate Notifications
New Member Welcome Emails
We've revamped our iHub Global new user welcome emails! These new emails templates will do a better job at helping a new user get started with iHub and have the most important resources included for them right in the email.
Affiliate Email Notifications
We've also added an automated email notification that gets sent out to each affiliate when someone joins their network! (Direct Referral / Signup) -
This will help keep affiliates informed of there efforts.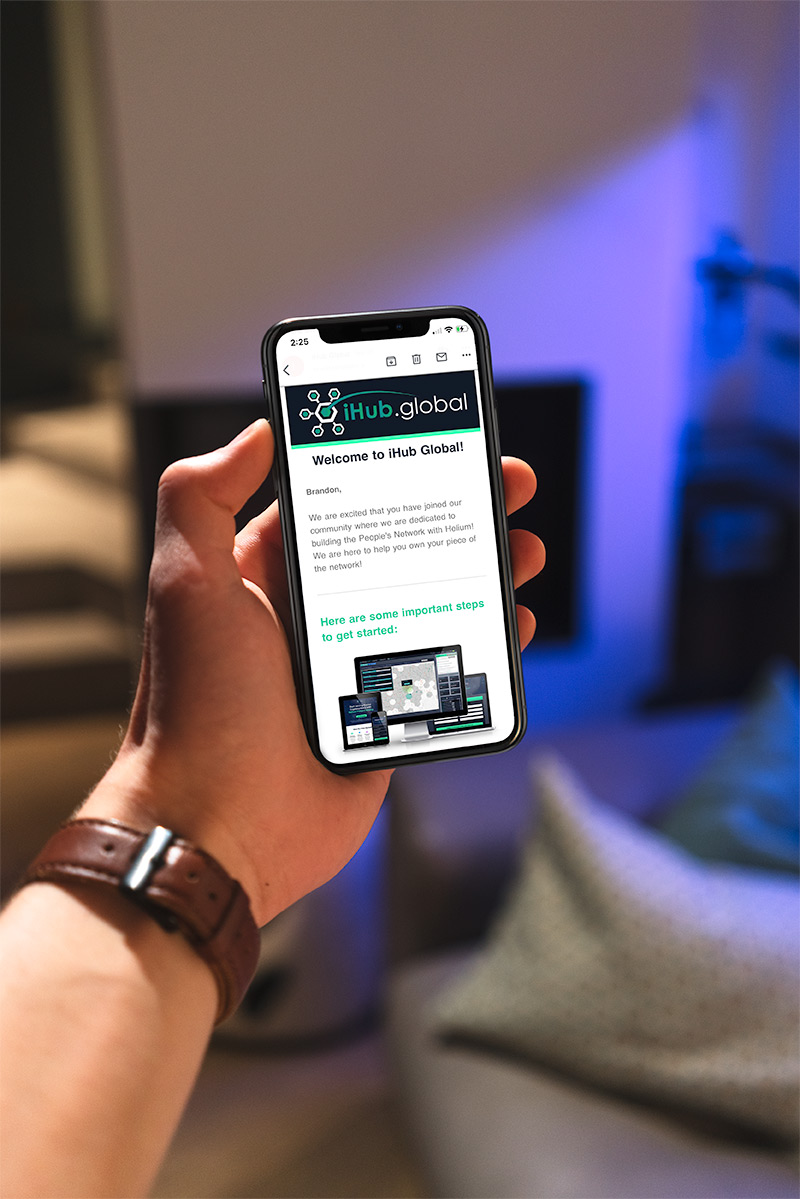 More visibility of your business with "My Network" v.10
We've launched "My Network" v1.0
This new section located under My Business > My Network now gives you visibility and actionable insight into your direct signups (personal referrals). This new dashboard will clearly break down your direct downline's activity to help you understand the health and growth of your iHub Business. Know who is planned hotspots, and sending assessments vs who is not and may need help.
What about seeing more of my downline?
When we launch v2.0 of "My Network" we will deliver even more analytics and visibility into deeper levels of your network.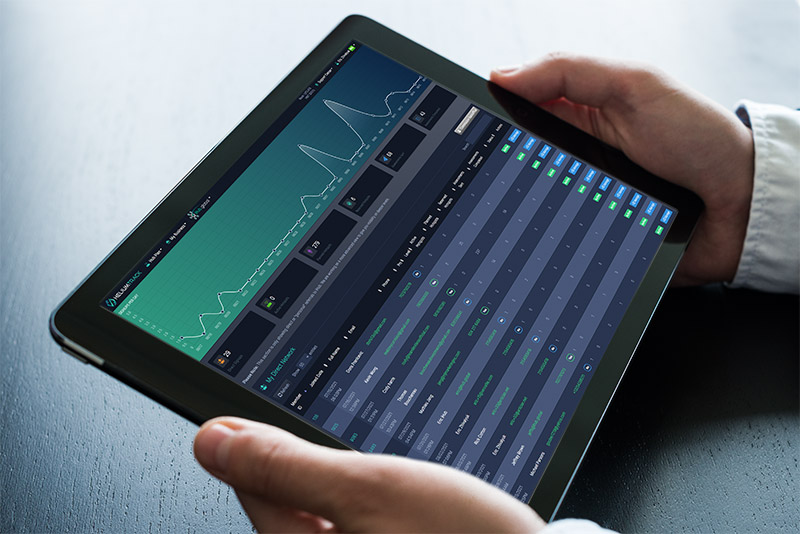 You can now Search the Support Center!
We've added a useful auto-complete search to quickly browse and search through all of the Video Training and Frequently Asked Questions in the Support Center! As we add more training and resources, we wanted to ensure our members continue having the best tools to find the help topics that their looking for.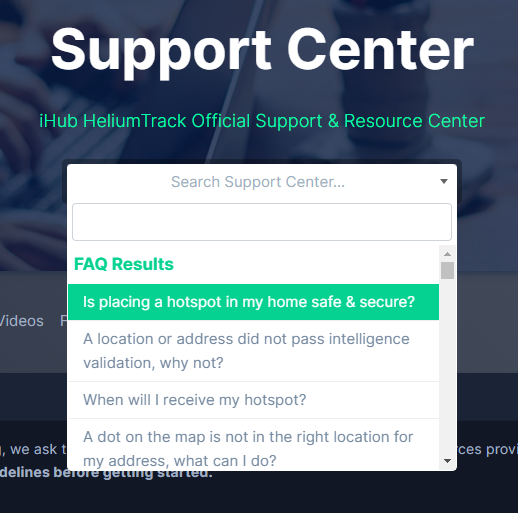 More Language Support for HeliumTrack
You asked, we listened! We have added even more language support for HeliumTrack, now providing 17 languages in total! You can conveniently change your language with one simple click in your User Account Dropdown > Language menu.
New Added Languages include:
Greek, Hindi, Hungarian, Indonesian, Italian, Polish, Turkish and Vietnemese.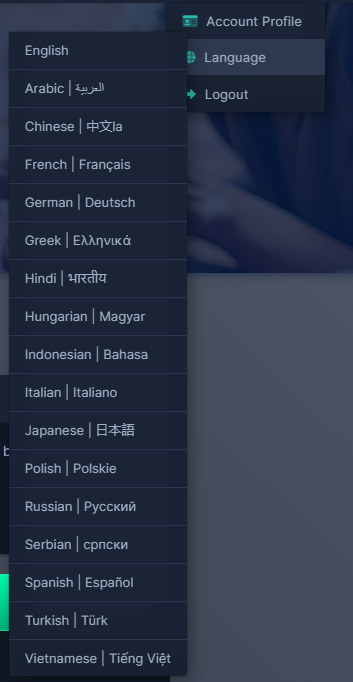 Aw Snap! Chrome Crashing Bug Fix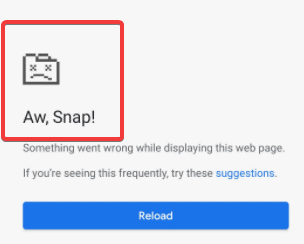 Over the last week or so, we have been getting reports of browser crashes in the chrome browser across various mobile devices. We have pushed a fix to HeliumTrack live production environment that should now completely fix / resolve this issue. This was caused by your browser running out of free memory. We have since optimized various aspects on the way the map and data KPI is loaded. Happy Planning! 😊
Things should be working smoother, and faster than ever!
New UI Updates to Virtual Mining Assessments Page
We've revamped the Virtual Mining Assessments Page! These new user interface updates give better visualization and insight into the progress, status and activity of the assessment reports which you have sent out.
What's Different?
We've removed all of the time activity columns and merged them into one easy-to-use activity dropdown menu. This will give you more clear visibility on what actions a user has taken.


We've linked the emails and phone numbers, making it easy to click and communicate with your contact


We've added a "Sent" column which indicates how many times you've sent that person a mining assessment - maximum limit is 3.


Additional ui enhancements to make the overall list of virtual mining assessments more readable.


Enjoy the new updates! Here's a screenshot: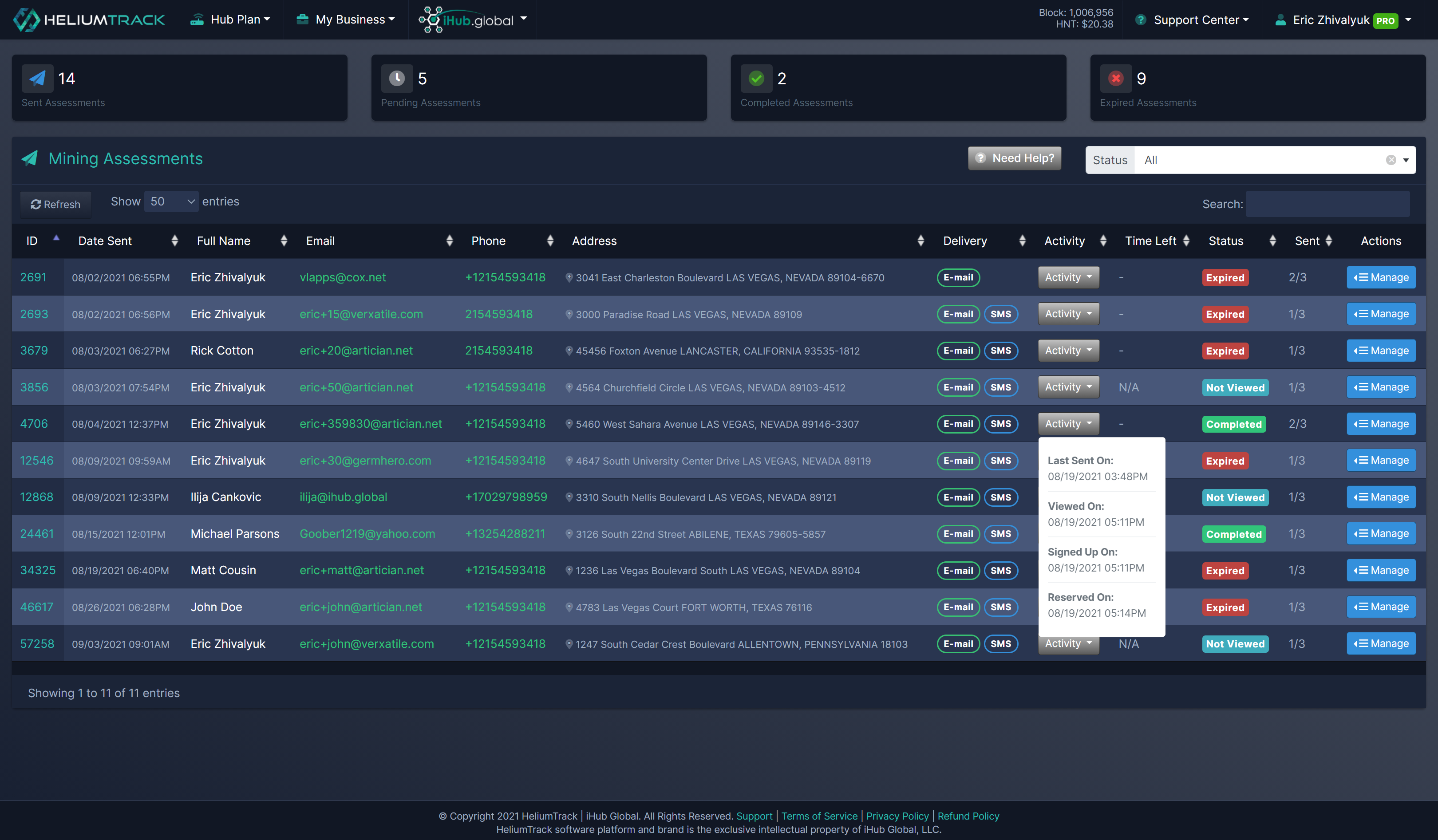 Grow Your Network! New Landing, Signup Page & More!
Just one week after launching our new Support Center, we are already bringing you new and improved marketing tools and processes to help you grow your network! We are announcing this Live on our Training Webinar Thursday 9/9/2019. Register Here: https://heliumtrack.app/support/webinars
Tell me in a nutshell...
We have created a new high-converting landing page for all iHub members. This landing is affiliate code to you, to make sure you get credit for anyone who signs up from it. Along with that, this new landing page does an excellent job of educating your potential referral about Helium, Hotspots, and the iHub Opportunity. From there, it helps get them signed up for iHub Global.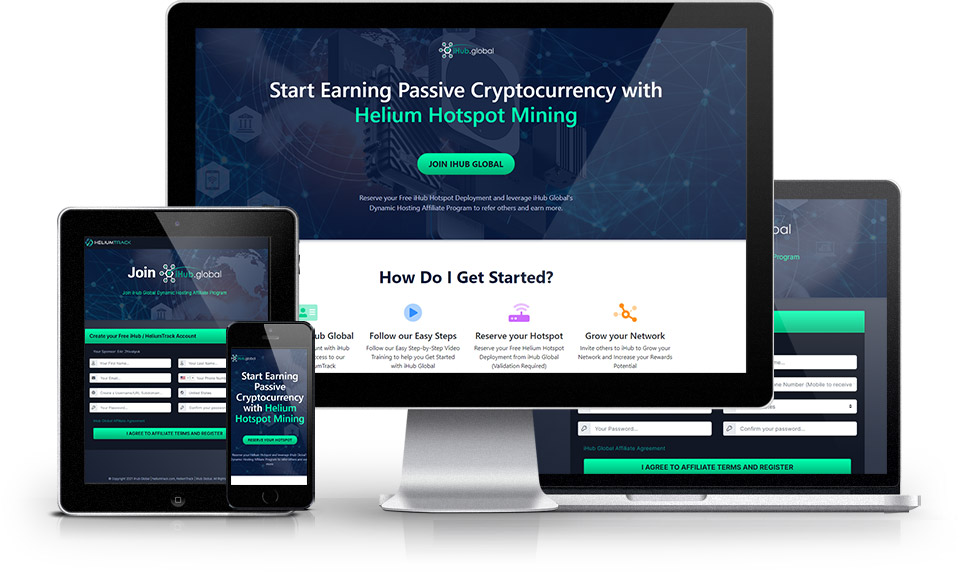 New High-Converting Landing Page
On tonight's training we are going to be reviewing the iHub Global's new Affiliate Landing Page. This high-converting landing pages will help educate any potential new member to the iHub & Helium opportunity, and allow them to join iHub Global right from there.
What about my existing Affiliate Link through iHub?
Don't worry, we will properly re-direct all existing affiliate links into the new signup process so there is nothing you need to do on your end. All your links will continue to work exactly like they did before, only your referrals will be greeted with a new and improved process.
New Signup Process through HeliumTrack
We're excited to announce that our new member signup page which will be handled entirely though HeliumTrack! - A smooth and seamless process to signup new affiliates. Why does this matter, you ask? Due to the fact that we have various systems sharing user information (iHub Backoffice, Comission Backoffice, and HeliumTrack), we wanted to streamline the process and centralize everything into one system. Because of HeliumTrack's robust functionality it allows us to ensure this process is always running smoothly, and all user data is kept accurate and up-to-date in real-time.
New Account Settings in HeliumTrack
We have migrated all the user profile and account settings into one section found in HeliumTrack. This means no more mismatched information, or using multiple systems to manage your account, profile, or settings.
iHub Official Support Center Launch
Over the last several weeks our software and support team have been working tirelessly behind the scenes for each and every single iHub Global member. With great excitement, we are please to officially and finally announce the iHub Global Support Center!
What is the Support Center?
iHub's official support and resource center is a single and centralized place to find everything you need when it comes to learning about iHub, Helium and HeliumTrack. We deliver the latest resources and training for you get the answers you need to find success with iHub's Dynamic Affiliate Hosting opportunity and utilizing our intelligent and proprietary SaaS software HeliumTrack. We also use our Support Center and a point of important announcements and communication directly with the community.
When it comes to growing your network and business, replication is crucial. Educating, training and answering questions for those that you sign up and bring into iHub can become a very overwhelming process. By providing you with a streamlined support platform that you can feel confident in sending every single person to you can focus on marketing and taking the next steps to continue to grow your network.
We look forward to continuing to update our support center with the latest training and crucial information to keep you informed and always one step ahead!
What resources are available to me in the Support Center?
Support Center Dashboard - A quick way to get to any section in the support center along with the latest announcement from the iHub Leadership Team.


Support Guidelines - An important overview of the protocols and guidelines of how to achieve the best method of support for any issues you may be experiencing.|


News, Updates & Announcements - The official and ONLY place to get the latest news, updates, announcements, features, bug fixes, and other important community messaging. This is the place to check to see what's going on in the community!


Training Videos & Courses - Finally an organized and centralized place with up-to-date video training on everything iHub and HeliumTrack. In this section you'll find the video training you need from new and beginner users to advanced and pro-account users.


Frequently Asked Questions - Organized and prioritized categories of commonly asked questions by iHub Global members.


Live Webinars - Easily find and browse our Live Webinar schedule, and view past live webinars!


System / Network Status- View a real-time network / system status of iHub and HeliumTrack. Our servers are checked every 60 seconds automatically for up-time and speed. If there is any outages, they will be displayed here automatically right away.


HeliumTrack is now available in 9 different languages!
We are excited to announce that HeliumTrack is now available in 9 different languages!
As our community grows and iHub expands into new international territory, we wanted to provide the best experience to all of our users no matter where they are located. That is why you can now conveniently change your language with one simple click in your User Account Dropdown > Language menu.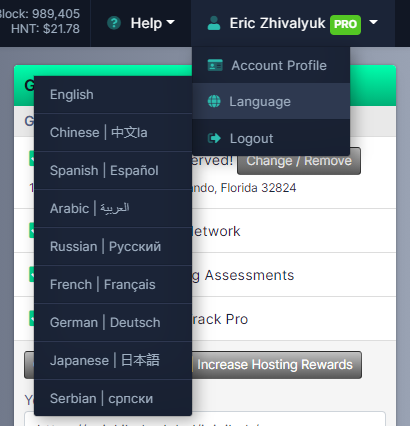 We are able to add new support for languages, and will be adding new languages soon. You can vote for your language below:
Announcing iHub Global Compliance Department
It's a ten letter word that most people in our industry know, but don't like to use. Compliance. Before you roll your eyes, let's keep in mind, Compliance is one of the many departments we need to ensure we get to continue sharing the iHub opportunity. While many people think Compliance is "out to get you", the main role of the newly developed iHub Compliance Department is to protect not only the company, but the business you are building here with us.
The iHub Compliance Team is here to help with any questions you have regarding our terms of agreement, Affiliate conduct and many other areas. Compliance is here to be your advocate, and nothing else.
We are excited to announce the launch of the iHub Global Compliance Department as it shows how much we are growing. If you have any questions that you feel Compliance could assist with, reach out via email. [email protected]
We will ensure that every resource will be made available to the community to further understand iHub's compliance and standards. We'll also be sure keep you informed with periodic emails like this one.
Let's work together to build the strongest network this industry has ever seen!
-iHub Global Compliance Team